1051-1106
1051. my swim team- Makos are the best!
1052. super fun meets (regionals and state)
1053. spending my weekends with Makos
1054. our team getting 10th out of 131 registered HS teams in TN
1055. good chats with super cool and fun friends
1056. God's answering prayers
1057. that God cares about the little things
1058. hanging out with the fabulous Lydia
1059. LU Chickfila with my fam and some dear friends
1060. seeing friends around the campus center
1061. watching a previous WW coach break the national HS record on the 100 fly (four laps of butterfly in 46.64 seconds- wow!)
1062. cheering
1063. finding an online broadcast
1064. being able to go on the pool deck
1065. lots of laughter
1066. being able to be at State
1067. watching the Makos rock the pool
1068. my dear and beautiful sister taking lots of incredible pictures (coming soon!)
1069. being guards with Maddie and Julia
1070. hanging out M & J
1071. two fabulous coaches who love us and support us
1072. more laughing
1073. new friends
1074. Julia
1075. Cara
1076. an AMAZING women's retreat
1077. beautiful and encouraging women
1078. my wonderful mama teaching on prayer
1079. good chat time
1080. adventures on the mountain
1081. the three dear women + sweet baby in my breakout group
1082. being real and taking off any facades
1083. wisdom from the dear women at my church
1084. Ebenezer stories
1085. God's faithfulness and love for us
1086. lots of yummy food
1087. Sonic, Wendys, and McDonalds runs :)
1088. engagement stories :)
1089. show and tell
1090. super fun games
1091. very cute house for all of us to stay in
1092. finding three different overlooks
1093. self timer on the camera so we could all be in the picture
1094. lots of laughter and fun
1095. worshiping and praising our Creator together
1096. warm weather
1097. encouragement from my dear lit teacher
1098. grace when I took the ACT
1099. Makos pasta dinner before regionals
1100. fun and laid back swim practices
1101. encouragement at Grandview
1102. Annie and Bethany
1103. my Spanish class
1104. treats at swimming
1105. my amazing parents
1106. New song Amy taught us: "O Great God" by Sovereign Grace Music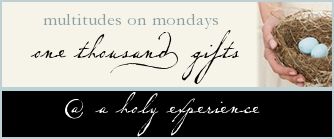 P.S. Coming soon!!! Let's Talk College Stalker Mail, pictures from regionals and state, pictures from the retreat, and more!